Kitchen Remodeling in Philadelphia + Delaware County
Kitchen Remodeling Services in Philadelphia
Reimagining Your Kitchen Space: A Comprehensive Guide to Kitchen Remodeling in Philadelphia
Your home is an embodiment of your personal style and comfort. And the space that often sees the most activity is the kitchen. Welcome to our extensive guide on kitchen remodeling in Philadelphia. Let's walk through a process that will transform your kitchen from what might feel like just your cooking space right now to the heartbeat of your home.
Choosing the Right Kitchen Remodeling Service in Philadelphia
When it comes to kitchen remodeling, the first decision to make is choosing the right service provider. As a trusted name in home remodeling services, we serve Philadelphia homeowners and we really are proud of our ability to bring your custom kitchen vision to life. With years of experience in transforming kitchens, we're confident in creating a space that reflects your lifestyle and preferences.
SOME ITEMS WE consider during a kitchen remodeling project
Why Choose American Home Concepts for Your Kitchen Remodeling?
Full Service Home Renovation: Kitchen Design & Planning
We believe in a holistic approach to kitchen remodeling. Meaning, it's more than just four walls, cabinets, and countertops.  Our approach starts with meticulous design and planning, where we consider your space, your requirements, and your family's personal style.
The Unparalleled Importance of Space Assessment
The first step in our process is a detailed space assessment. Our team will evaluate your current kitchen layout, considering factors like storage needs, countertop space, and traffic flow. This is to ensure that the remodeled kitchen suits your lifestyle and enhances your daily routines.  For instance, a family of five will most likely need more pantry space than empty-nesters.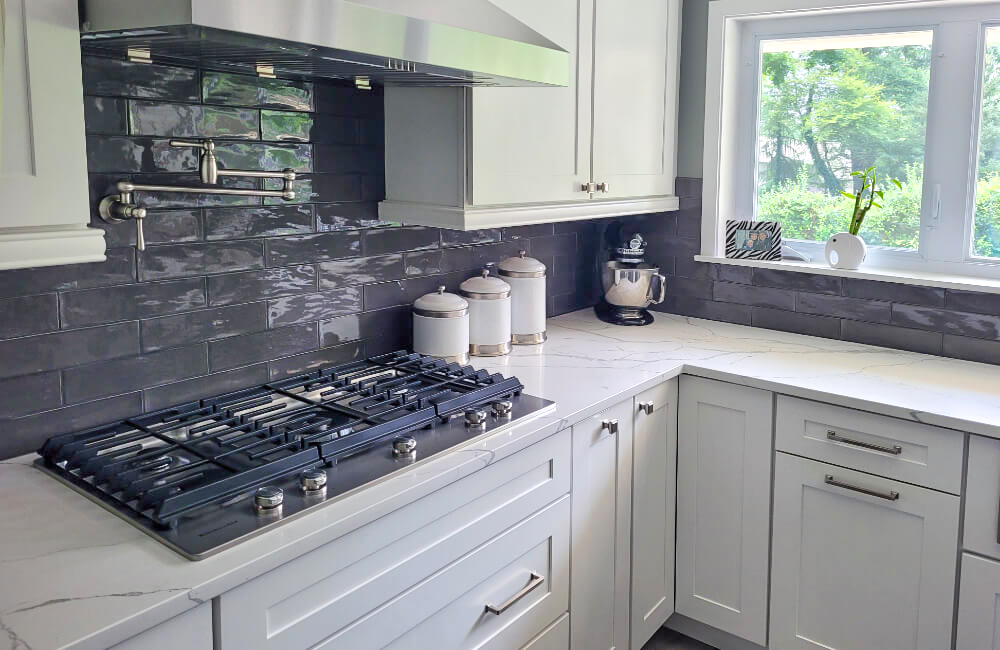 Meticulous Design & Planning
Our design experts will work closely with you, understanding your vision for the kitchen and translating it into a functional design. Using your kitchen design ideas as a springboard, they'll draft a plan that makes the most of your space and integrates seamlessly with the rest of your home, adding value not just to the kitchen but also to your entire home.
Material Selection - Fusing Quality with Aesthetics
After finalizing the design, we move on to selecting the materials. We pay close attention to each detail, whether it's choosing the perfect countertop material, finding matching tiles for the backsplash, or identifying the ideal cabinetry that combines practicality with aesthetics.  Sometimes we take cues from other designer kitchens like those seen on HGTV.
From Paper to Reality: Construction
Construction is where the real transformation begins. Our skilled craftsmen will bring the design to life, ensuring every inch of your kitchen reflects the agreed-upon plan. This is where our uncompromising commitment to quality and attention to detail truly shines.
Finishing Touches and Quality Check
We're not done until every element is perfectly installed, every surface is polished to a shine, and every feature works flawlessly. Our team conducts a thorough quality check to ensure that every aspect of the project meets our high standards and your expectations.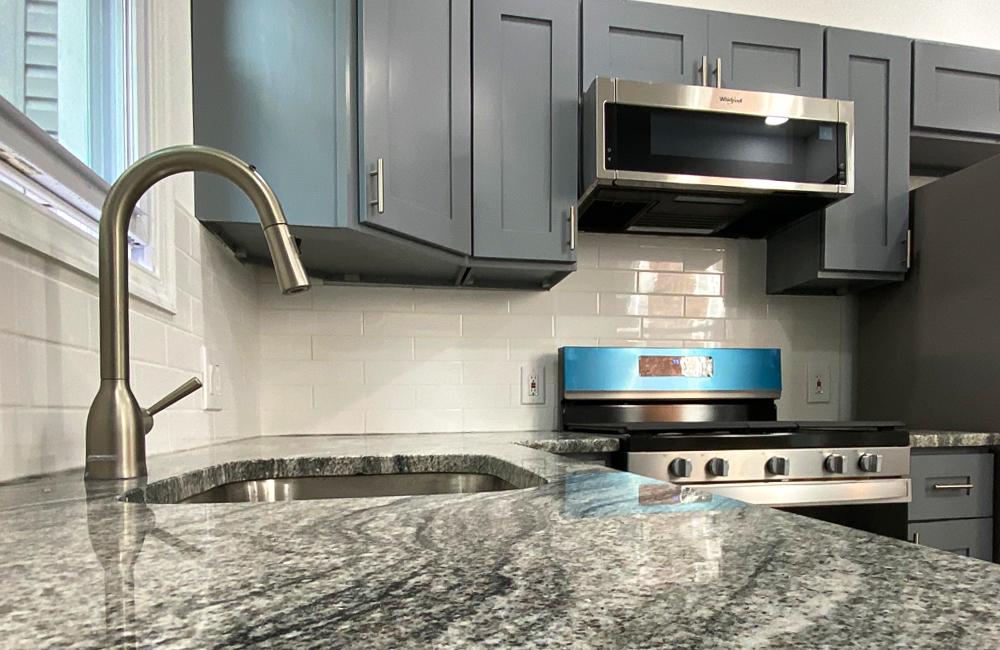 Translating Trends Into Timeless Designs
Our remodeling experts stay updated with the latest trends in kitchen design. Whether you prefer a modern minimalist style or a rustic farmhouse design, we'll incorporate those elements while ensuring your kitchen remains timeless.  Whether your Philadelphia home has a large kitchen or a smaller space, there's a design style just right for you.
Optimizing for Functionality and Comfort
At the end of the day, your kitchen needs to be functional as much as it should be beautiful. We consider how you use your kitchen; from the appliances you frequently use to the most needed storage spaces and design the kitchen to improve functionality without sacrificing comfort or style. For instance, did you know there are now some in-island microwaves with pull-out drawers.  That's a great addition to any kitchen remodeling project.
Your Trusted Partner in Kitchen Remodeling in Philadelphia
With our extensive experience (we think that performing home remodeling services since 1991 qualifies us to say that) and unwavering commitment to quality, we strive to provide you with an exceptional kitchen remodeling experience. If you're ready to transform your kitchen into a space that's uniquely yours, contact us today. Your new kitchen awaits!
Discover Some of Our Other Services
In Philadelphia And Surrounding AreaS
We admit we're great at kitchen remodeling, but our excellence doesn't end there. At American Home Concepts, we have the knowledge, experience, and training to handle all types of home remodeling work. Our bathroom remodeling work is the envy of the Philadelphia area, and our contractors know window and door installation inside out. Check out our other services below.
Are you in the Philadelphia area? Give us a call at
(610) 667-7775
We are here to help you with all your home remodeling projects!